Prison Security Fence with Razor Barbed Wire for High Security
Prison security fencing is also called prison security welded fence, which is made from mild or stainless steel. The mesh aperture of 76.2 mm × 12.7 mm fabricated by 4 mm diameter steel wire makes it extremely hard to cut and climb. With razor barbed wire topping, prison security fence can provide high level security, and it is often used in prison, hospital, military base, power station, railway station, airport and industrial factory.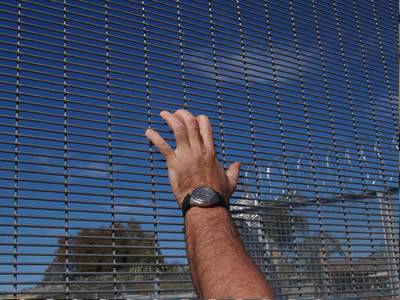 PSF-01:
Prison security welded fence is often accompanied by razor wire for prison fencing.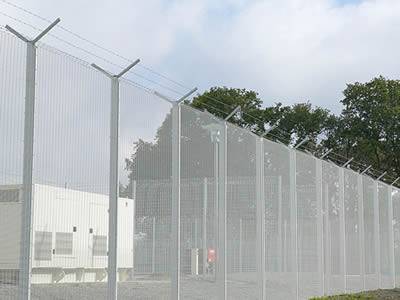 PSF-02:
Combined with barbed wire, prison security fencing is suitable for power station fencing.
Specifications of prison security fencing
Material: mild steal, stainless steel.
Surface treatment: galvanized and PVC coated.
Colors of PVC coated roll top fence are green, white, grey, red, black, yellow, blue.
Hole shape: rectangle.
Wire diameter: 0.165 in. (4 mm).
Horizontal wire spacing: 0.5 in. (12.7 mm).
Vertical wire spacing: 3 in. (76.2 mm).
Height: 1800 to 6000 mm.
Panel width: 2400 mm, 2515 mm.
Tensile strength: 500–550 MPa.
Framework

Post: RHS post or H post.
Rail: round rail or square rail.

Fittings: 40 × 6 mm flat bar clamp, galvanized M8 cup head bolts.
Matching security gates

Single leaf gate: 1.2 m wide.
Double leaf gate: 3.8 m wide.

Fence topping

Barbed wire
Barbed wire arms for three to six strands of barbed wire to meet the security requirement.

design number

12-4-3-14R having 4-point barbs spaced 3 in. on center.
12-4-5-14R having 4-point barbs spaced 5 in. on center.

Razor wire (0.025 in. thickness)

18/24 in. single coil helical.
18/24/30/40/60 in. single coil concertina.
24/30 in. double coil concertina.

Warranty: 5 years.
Maintenance

Periodic maintenance inspections.
Regular cleaning program.
PVC or zinc re-coat.
Features of prison security fencing
High rigidity, high level security welded wire mesh panels.
Available with barb wire or razor wire topping.
Finger-proof dense wire spacing, difficult to climb and cut.
Corrosion resistant.
Maintain a clear sight through horizontal aperture.
Beautiful in appearance, wide range of color.
Easy to deliver and install.
Long service life.
Simple to maintain.
Applications
Prison security fencing.
Hospital security fencing.
Military base fencing.
Power station fencing.
Electric substation fencing.
Railway station fencing.
Airport security fencing.
Walkway security fencing.
Animal enclosure fencing
School fencing.
Building fencing.
Road fencing.
Commercial location fencing.
Gas line fencing.
Industrial factory fencing.
PSF-03:
Prison security fencing is widely used for building fencing to protect personal safety and property.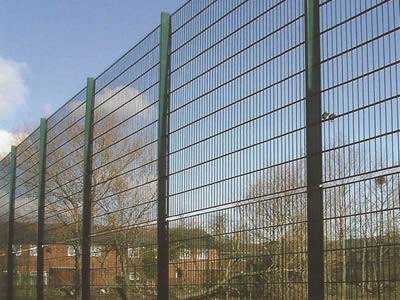 PSF-04:
Prison security fencing is widely used for playground fencing to prevent balls out and protect the safety of the people outside the playground.
PSF-05:
Prison security fencing is often combined with razor wire for road fencing.
PSF-06:
Prison security fencing is frequently found in railway station to protect the safety of people.
PSF-07:
Prison security fencing is widely used at electric substation because of its high security.
PSF-08:
Welded wire security barrier for prison fence.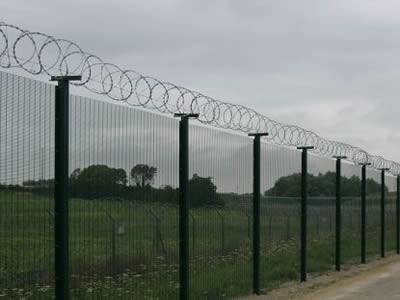 PSF-09:
Prison security fence is widely used for farm fencing.
PSF-10:
Prison security fence is often used for border fencing.
Inquiry for Our Product
When you contact us, please provide your detail requirements. That will help us give you a valid quotation.