Security Palisade Fence – High Security and Stability Steel Fencing
Security palisade fencing, also called SP fence, is made from S235JR and it increases the difficulty to go through buildings. Compared with general palisade fence, SP fence has higher security and stability. SP fence only involves 3.0 mm thick corrugated W" section and 3.9 mm thick corrugated "D"section, not refers to steel angle. Besides, the height of the fence can be 3.0 or 3.6 m above ground. SP fence often used to protect schools, parks, churches, stadiums, industrial sites, railways, highways, premises, yards, companies and so on.
SPF-01:
Security palisade fence can be used to protect voltage boxes and add more safety to people.
SPF-02:
PVC coated security palisade fence can be used to separate premises from land and protect premises.
Specifications of security palisade fence:
Material: hot or cold formed S235JR.
Composition: pale, rail, post, and fittings
Pale:

Pales section: corrugated "W"section 3.0 mm thickness, corrugated "D"section 3.9 mm thickness.

Triple head corrugated "W" section is often used for high security palisade fencing.
Corrugated "D" section is used for medium and low security palisade fencing.

Corrugated pale top shapes: round and notched; round only; plain; single pointed; triple pointed and splayed; triple pointed; splayed and returned.
Pales deflection: not exceed 10 mm at the middle of the span under 3.5 kN load.
Spacing of pales: 155 mm.
Width: 70 mm.

Rail:

Rolled steel angle section.
Security palisade fences have three horizontal rails.
The bottom one rail should be located above 100 mm from the bottom of the pale.

Pale to rail fixing methods: welding, bolting or riveting
Post to rail connections: bolting, welding or slotting.
Holes for fence post foundations:

Square hole (mm): 450 × 450.
Round hole (mm): 600 diameter.

Addition security:

Burrowing:

Pales shall be extended by 150 mm and embedded in the concrete sill.
Pales shall be extended by 350 mm and buried in the ground.

Topping:

In order to gain higher security level, the top of the security palisade fence can install barbed wire and razor wire.
Besides, the security palisade fence also can be used by combining with small opening mesh fence, such as 358 mesh, expanded metal, and so on.

Fittings: bolts, nuts, washers, cold swaged pin, hinges, drop bolt and slam plates, locking devices, fastenings.
Table 1 - Dimensions for Security Palisade Fencing with Posts at 2.75 m Centers
Item
Fence Height Above Ground (m)
Posts
Horizontal Rails (Rolled Steel Angle Section) (mm)
Rolled Steel Joist Section (mm)
Embedded Length (mm)
SP-30
3.00
127 × 76
925
50 × 50 × 6
SP-36
3.60
127 × 76
1125
75 × 50 × 6
Characteristics of security palisade fencing:
High security.
High durability and stability.
Beautiful.
Corrosion resistant.
Easy to install.
Easy to maintain.
Long service life.
Various applications:
Schools.
Parks and churches.
Stadiums.
Industrial sites.
Railways and highways.
Premises, yards and companies.
Access to buildings, sports and other facilities, etc.
Packaging:
First, the pails, rails and posts are packaged separately by strings and in plastic films, then packaged on wooden pallet or steel pallet.
All of fittings are packaged in box.
In addition, the fence also can be packed in bulk.
SPF-03:
The package of pales of triple head corrugated "W" pales is stable enough and easy to operate.
SPF-04:
Using plastic film to package rails adds additional security for shipment.
SPF-05:
Using plastic films to package pales is a damp proof course for people to ship.
SPF-06:
The well-packaged pails, posts, rails in the container are waiting for shipment.
Maintenance:
Fence maintenance:

If necessary, the user can use soap and water to wash the palisade fence and gates.
Please don't use abrasive materials, for they will damage the protective surface of fence.

Gate maintenance:

Ensure the bottom rail and stile locking bar is secure and intact.
Inspect the fixings and grease pins (hinges).
Check the gate is adjusted correctly and moves freely.

Coating maintenance:
Paint coatings usually need a redecoration cycle of 3 to 8 years.
Service life:
The service life of security palisade fencing is usually between 10 and 30 years.
In addition, the corrosive of the atmosphere where the fence is located and the difference of paint coatings influence the service life of security palisade fencing.
In terms of coating, PVC has a stronger corrosion resistance than galvanized coatings.
SPF-07:
Galvanized security palisade fence can surround a construction site and protect people on the both sides of the palisade fence.
SPF-08:
Security palisade fence with PVC coated can protect the forest vegetation well by separating it from outside world.
SPF-09:
The palisade fence originally has high security, when combines with barbed razor wire, the whole fence gains additional safety and beauty.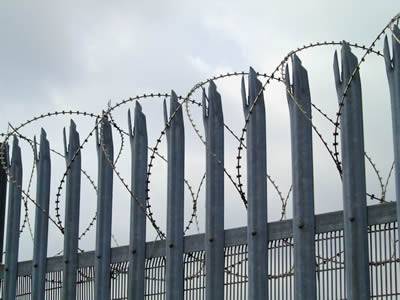 SPF-10:
Combining the security palisade fence with spiral razor wire and 358 fence is a more securer method to prevent people and things entering.
SPF-11:
The high security galvanized palisade fence for gate is simple and stable enough.
SPF-12:
The palisade fence can prevent other things entering well. Besides, The white fence integrated with back factory shows elegance of the whole installation.
Inquiry for Our Product
When you contact us, please provide your detail requirements. That will help us give you a valid quotation.