Welded Wire Security fence barrier – High Strength and Rigidity
Welded wire security fence, is a welded -wire physical security perimeter barrier for high security level fence project. Compared with general welded wire fence, the security fence has higher strength, rigidity and security to resist hard weather and has a longer service life. The surface treatment of the fence includes hot-dip galvanization and PVC coating. Now, welded wire security fence has been widely applied to prison, military, airport, residential areas, recreational places, public buildings, industrial facilities, schools, and playgrounds.
SWWF-01:
A PVC coated fence gives a good protection to a building.
SWWF-02:
Welded wire security fence can prevent many things passing and has high rigidity and strength.
Specification:
Materials: high quality low carbon steel, iron wire, stainless steel wire.
Composition: posts, rails, fittings, razor barbed wire.
Dipped wire diameter: 3.0 mm – 5.8 mm.
Maximum size: 2300 mm × 3000 mm.
Surface treatment: hot-dip galvanization, cold galvanizing and PVC coating.
PVC color: dark green, olive green, brown, black.
Framework:

Rails: top, bottom, intermediate or brace rails.
Posts: gateposts, line posts and terminal posts.

Fittings: nuts, thread, bolts, washer, clips, etc.
Table 1 Recommended Mesh Size and Wire Gauge for Welded Wire Security Panels

| Items | Mesh Opening (Width × Height) | Wire Diameter Gauge | Panel Width for Post Spacing 6, 7, 8, and 10 ft. (in.) | Panel Length (Height) (ft.) |
| --- | --- | --- | --- | --- |
| WSF511 | 0.5" × 2.0" | 11 | 74, 86, 98, 122 | 6–21 |
| WSF510 | 0.5" × 3.0" | 10.5 | 74, 87, 99, 123 | 6–21 |
| WSF509 | 0.5" × 3.0" | 9 | 74, 87, 99, 123 | 6–21 |
| WSF508 | 0.5" × 3.0" | 8.5 | 74, 87, 99, 123 | 6–21 |
| WSF506 | 0.5" × 3.0" | 6 | 74, 87, 99, 123 | 6–21 |
| WSF704 | 0.75" × 3.0" | 4 | 74, 87, 99, 123 | 6–21 |
SWWF-03:
Welded wire security fences protect people from getting hurt on roads by separating areas.
SWWF-04:
Mesh openings of welded wire security fencing are small enough for anti-climbing.
Features of welded wire security fence:
Has high strength, rigidity, not sag or deform easily.
The galvanized fencing or PVC coating fencing increases weather resistance.
The panel shaped fence are jointed together easily and efficiently.
Service life is longer than general wire fence.
Application of welded wire security fence:
Suitable for both flat and level terrain, extremely used for high security areas such as prison, airport and military.
Also widely applied to residential areas, recreational places, public buildings, industrial facilities, schools, playgrounds, and sports stadiums.
SWWF-05:
Welded wire security fence protects pedestrians and transportation on the path.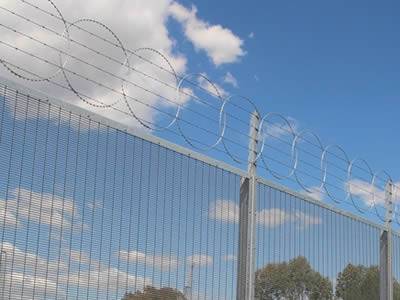 SWWF-06:
Welded wire fence with high security and strength to prevent people entering industrial sites.
SWWF-07:
Welded wire security fence panel for foot fencing barriers.
SWWF-08:
Welded wire security fence protects living environment from bothering of roads and streets.
Installation:
All the compositions of welded wire fence are on the plane and fastened firmly.
Burying:

The space between the bottom of the mesh and grade isn't more than 1 in..
Overlap the buried mesh with the fence mesh a minimum of 6 in..

Connecting:

Connection points aren't exceed 15 in. as attaching panels to posts or rails.
Use a galvanized steel strap to attach mesh to terminal posts.
Additional security:
Perimeter fences can combine with vibration systems, sending alerts when there is vibration, cutting, or climbing of the fence.
Welded wire fence combined with barbed razor wire adds more security.

Barbed wire: 12-4-3-14R or 12-4-5-14R.
Barbed tape obstacle:

18", 24" single coil helical, 0.025 in. thickness.
18", 24", 30", 40", 60" single coil concertina, 0.025 in. thickness.
24", 30" double coil concertina, 0.025 in. thickness.
SWWF-09:
Security welded mesh with razor wire protects airport and people inside or outside airport.
SWWF-10:
The barbed wire fence added more security to protect peripheral people and things.
Packaging:
In general, use moisture-proof paper (color mostly gray, yellow, plus trademarks, certificates, etc.) or waterproof film for roll package.
If necessary, woven bags or sacks and wrapped tapes are used to package.
Light pipe tray and wooden pallet can be used to package the fences for ship transport. This way makes the cost of welded wire mesh increase.
Inquiry for Our Product
When you contact us, please provide your detail requirements. That will help us give you a valid quotation.